Top 7 Garage Door Trends For 2022!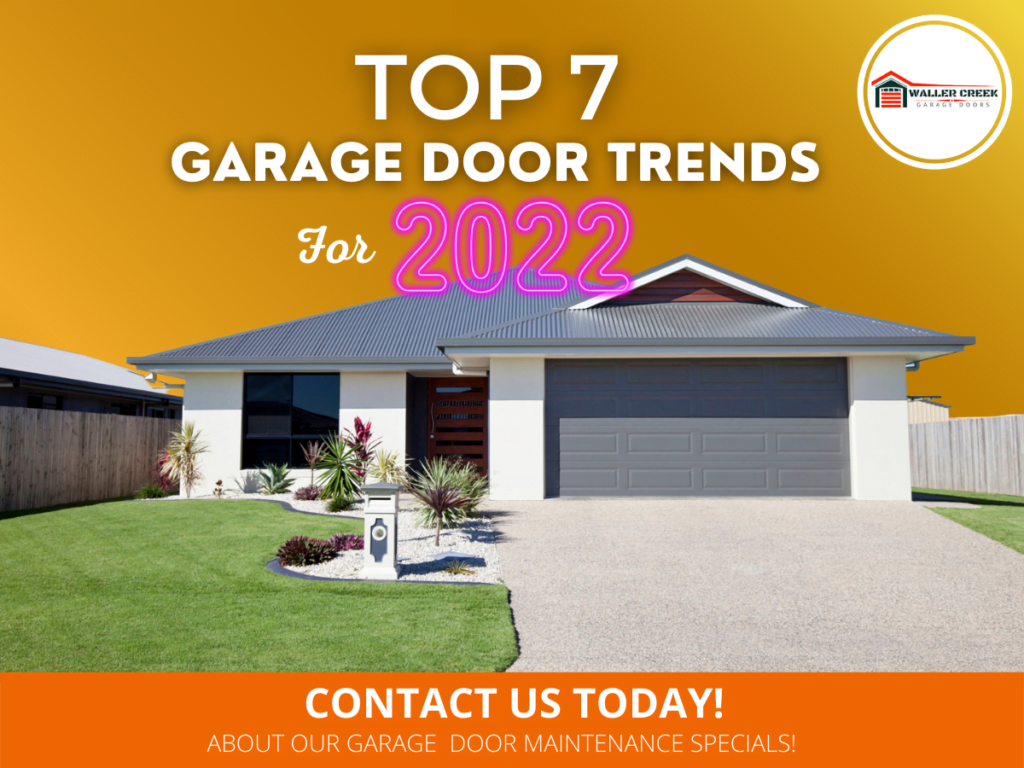 When it comes to new trends in home design, the garage doors is often left out of the conversation. Yes, they last for years, but it makes sense to keep up with garage door trends if you want maximum curb appeal for your home.
This year, there are a lot of exciting changes happening in the garage door industry. From the best color choices to richer architectural detailing, we've got the lowdown on the top 7 garage door trends for 2022 you'd want to know about.
Like the famous saying, "You reap what you sow", boosting garage doors can reap you as much as 97.5% ROI for your home. And right now, farmhouse garage doors will reap those compliments from neighbors and potential buyers!
Farmhouse garage doors evoke the all-natural, timeless charm in rustic detailing and materials. But, the difference is that now, homeowners prefer cleaner, more modern styles. You can match these with your home by choosing what color palette works best alongside the house – there are lighter and darker wood shades, plus the different A or X overlays on the wood. If you prefer a more practical material, go for a composite and steel combination for your next farmhouse garage door installation.
Once you go black… We've all looked at black as something that evokes mystery and class, and the trend translates to garage doors this year. More and more homeowners are preferring black splashed on their garages. The result is an eye-catching piece that, with accent lighting, can really turn heads and add some pizza to your exterior.
Since paint is an easy way to update your residential garage doors, this is a must try for those looking to go for a contemporary look for your home. No need to replace panels, a splash or rich black paint is all you need. And the best part is, black garage doors can fit in nicely regardless if your house has colonial, traditional, or modern architecture. 
In accordance with the clean, minimalist style that is all the rage now, we've also seen a lot of glass garage door trends. They are perfect addition to a modern designed home –  they boost the premium feel and at the same time keep your garage area well-lighted. Options for glass doors include frosted glass, clear glass, and tinted glass options that give a sense of airiness to the garage space. These glass-paneled garage doors are supported by metal framing to add stability in the fluid design.
Of course, unlike other options, glass garage doors can be a bit pricier as an option. Add to that your considerations for security. Glass garage doors can give the outside a better glimpse of your interior garage. You may want to amp your security and lighting should you choose this style.
Plank garage doors is a modern way to add class and style into your exterior. The design matches almost any type of architecture, which makes it perfect for traditionalist who want their homes looking richer and warmer with the wooden doors, and also those who want a contemporary, natural look.

Plank garage doors also lend themselves to windows inserts and different accessories. An on-trend aesthetic to use wooden planks as one solid garage door, and place windows inserts on just one side of the door. This creates an elegant look. You can use dark wood, lighter-toned wood, or even vinyl planks for a less pricey alternative.
Again, painting your doors a different color can instantly update your home's look. Right now, white is out and darker, more dramatic tones are in!

Darker tones go so well with your landscape's stone, adobe, and siding, plus darker colored, garage doors could hide debris much better. It's more preferred option these days, and you may want to join the bandwagon.
While some homeowners are embracing minimalist styles, there are others who want a rich dramatic look maintained on their homes. And one way to get a new garage door look with some romantic detailing is to add wood trimmings around the garage doorway.

Wood trim is on-trend now, it makes even the simplest, standard garage doors look luxurious instantly. Whether you go for a white, cream look or a darker toned doors, adding wood trimming to surround the doorway can make the garage look cozy and warm. Note that wooden doors and trims can get more expensive than steel doors, but they are well worth the price.
Non-Wood Durable Garage Doors
Wooden garage doors add a distinct charm to your home, but if you're looking for a less expensive and lower maintenance option there are great alternative materials in the market. Steel, metal, or fiberglass garage doors are trendy now, especially for contemporary-style homes.

Aside from the modern appeal, durable garage doors are also sought out for their functionality. These materials can stand the test of time, they don't warp or get moldy, and can come in many varieties design-wise. Mixing steel with composite wood for instance, or with glass, can achieve a luxurious look. Custom garage door companies can present the best design options for your home while keeping the insulation and security mechanism high quality.
Talk To Us About Garage Door Trends
It's the best time to upgrade your residential garage doors. If you're planning to do just that, you want a company that has licensed, insured, and warranty-covered products and services. We are the one exactly for you – our local garage door repair crew can provide you with the best estimates and garage door installation packages that satisfy your needs. Talk to us today to inquire about your new garage doors!